Link Build Like a PRO in 2018
Hey, this is Sheldon Reynolds, 19 year old internet marketer and SEO guru wannabe. In the picture to my right I am on a beach on the Mediterranean Sea. I spend my summers traveling and enjoying life, and I can afford to do this because I have kept up with SEO.
If you read any of the big blogs, you've probably heard that SEO is dead. "1 million reasons why you shouldn't sell SEO", "Selling SEO in 2017 is unethical", "You cannot even rank for keywords its all about user experience".
Good news, it is 2018 and SEO is not dead, in fact it is more alive than ever before and if you can master Link Building in 2018, you can do client, affiliate, and Ecommerce SEO and DOMINATE.
SEO is not dead, it is just more complicated.
SEO is no longer a game of exploiting google glitches to get uber fast results. No, SEO is now a legitimate trade. Link building is still the biggest key to success for SEO in 2018, it just needs to be done a little bit differently.
Im going to go in to three fundamental rules to keep in mind when link building in 2018.
#1 Rule of Link Building in 2018: DO NOT OUTSOURCE TO BLACKHAT LINK PROVIDERS. 
While some black hat methods still work, only the elite black haters have them down to a science and know how to execute these methods to make them look organic in googles eyes. If you outsource to a crummy Link building agency, you will get no results and it will most likely hurt any positive link building that you do.
#2 Rule of Link Building in 2018: ORGANIC, ORGANIC, ORGANIC.
It may seem difficult, but you can manipulate organic link builds. You don't have to waste countless hours of your time on Blogger outreach and guest post negotiation. There are plenty of places to outsource Organic Links in 2018, I would recommend FatJoe to anyone looking to streamline Organic Link building.
If you want to build organic links on your own, I would recommend using AHrefs to Link steal.
Here is how it is done. Take the keyword "plumbers houston" as an example.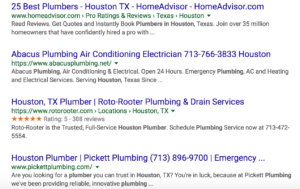 If you are picket plumbing (the listing at the bottom of this screenshot) and you want to build more links, copy the domain name of your biggest competitor (in this case Abacus Plumbing). and paste it  into Ahrefs like so: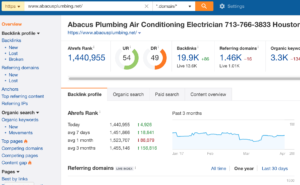 Now navigate to "backlinks".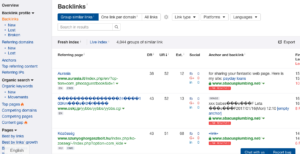 Once you are here you have two options:
1.) Go through the plethora of backlinks manually and find ones you can reach out to for a link
or
2.) Select one link per domain and search a relevant term like "plumbers", this will insure that the links you are going after are niche specific and makes them much more valuable to chase. If you were trying to rank for a city you could put "houston" or even mix the two "Houston plumbers". I like this method of filtering through for quality before I actually dig through the links and reach out.
#3 Rule of Link Building in 2018: Build a Brand.
It is true that using exact match anchor's over and over and engineering your brand itself to be a keyword match can hurt your websites rankings. To capitalize on exact match anchor links you need to have already established trust with your brand. I have found that when I follow this key principle, it will take a drastic amount of the link building out of the equation. Building branded anchors are much easier than getting exact match anchors. If you want to build links with this strategy, but do not really have it down to their own science, I would recommend Adam White's "SEO Jet" software. This software performs an analysis on the links already built to your site then gives a "Link Map" for you to follow to achieve a very balanced and high performing link profile.
I believe if you do not do anything negative to your site, continue to create organic links, and focus on anchoring to your brand, you cannot go wrong and you will future proof your SEO.
However, there are many more practices and strategies that go into SEO in the modern day, this is just a broad outline. If you found this article helpful and want to learn more Link building strategies (including how I get 6-12 legit .edu backlinks for every single client) schedule a coaching session. If you would like to work with us, fill out our client form and we will get you a customized quote.